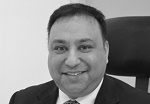 Sukhjit passed his Law Society Finals in 1993 and was admitted to the Solicitors Roll in 1998. Since then he has amassed experience in a huge range of aspects of the legal world. He has been Avery Emerson's Principal since the firm's inception in spring 2003, and now heads a strong and diverse team of highly motivated legal professionals.
He says that as well as being passionate about constantly improving his own skills and experience, he works tirelessly to ensure that his staff not only have the highest levels of training, but work as a team at all times in their pursuit of solutions for their clients' problems.
Sukhjit had many years of experience in the City, working for Goldman Sachs, Merrill Lynch, Andersen Consulting, Accenture, Freshfields, Nabarro Nathanson and Ernst & Young, before founding Avery Emerson well over a decade ago. He has also travelled very widely, both for personal and professional reasons. His experience is far wider than the majority of solicitors in a similar role, and he is able to bring a highly experienced perspective to his work.
Sukhjit has worked as a Conciliation Officer with the Law Society, and has represented many prestigious clients, including a members of the extended Royal Family and a European shipping giant.
One of the first principles he insists on within the firm is a personal and 'human' approach towards Avery Emersons' clients, seeing every client as a unique individual and addressing their problems and requirements accordingly. In establishing the firm he was determined that it would be sympathetic and personable throughout.
Sukhjit was the Chair of the solicitors' Sole Practitioners' Group, (between May 2015 to November 2016) which was formed in 1992 and now has 5,500 members across England and Wales. The Group is recognised by the Law Society.
In recent years he has been involved in the making of two television documentaries – one for Channel 4 and one for a Danish station.
Sukhjit speaks English, Punjabi, Hindi, Urdu, and has a working knowledge of Guajarati. He grew up in Ilford and now lives in Romford with his wife and three children; he says that he greatly values time with his family and that – and his work for a number of charities – is the key to achieving a satisfactory balance between work and leisure.
Sukhjit is the founder Trustee of SEVA Street a registered Charity. Each Wednesday he and a group of 35 volunteers distribute 200 hot home cooked meals to people living on the street. They visit Stratford Center at 18.45 in east London. For more information please visit www.sevastreet.org.