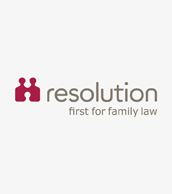 Avery Emerson works within the principles laid by down Resolution (previously The Solicitors Family Law Association).
Resolution's 6,500 members are family lawyers and other professionals in England and Wales who are committed to the constructive resolution of family disputes. Resolution members encourage sensitive, cost-effective solutions that consider the needs of the whole family, and in particular the best interests of the children.
Avery Emerson adheres to the Resolution code of practise, which promotes a non-confrontational approach to family problems. This means that Avery Emerson . . .
Develops and promotes the highest standards of practice
Supports the development of family lawyers through training publications, good practice guides and an accreditation scheme
Campaigns for improvements to family law and the family justice system
Acts as the voice for family lawyers with government and the media
Resolution is committed to developing and promoting best standards in the practice of family law and explores and promotes other ways of resolving family disputes, such as mediation and collaborative law, so that couples have alternatives to going to court.